Dying Light 2 is a first-person action horror game in which players take on the role of Kyle Crane, an undercover operative who must traverse through a city infested with zombies and fight off other humans that have been infected.
Dying Light 2 Sophie Choice is a new feature that allows players to romance the character of Sophie. The choice is made in-game, and changes how certain events play out.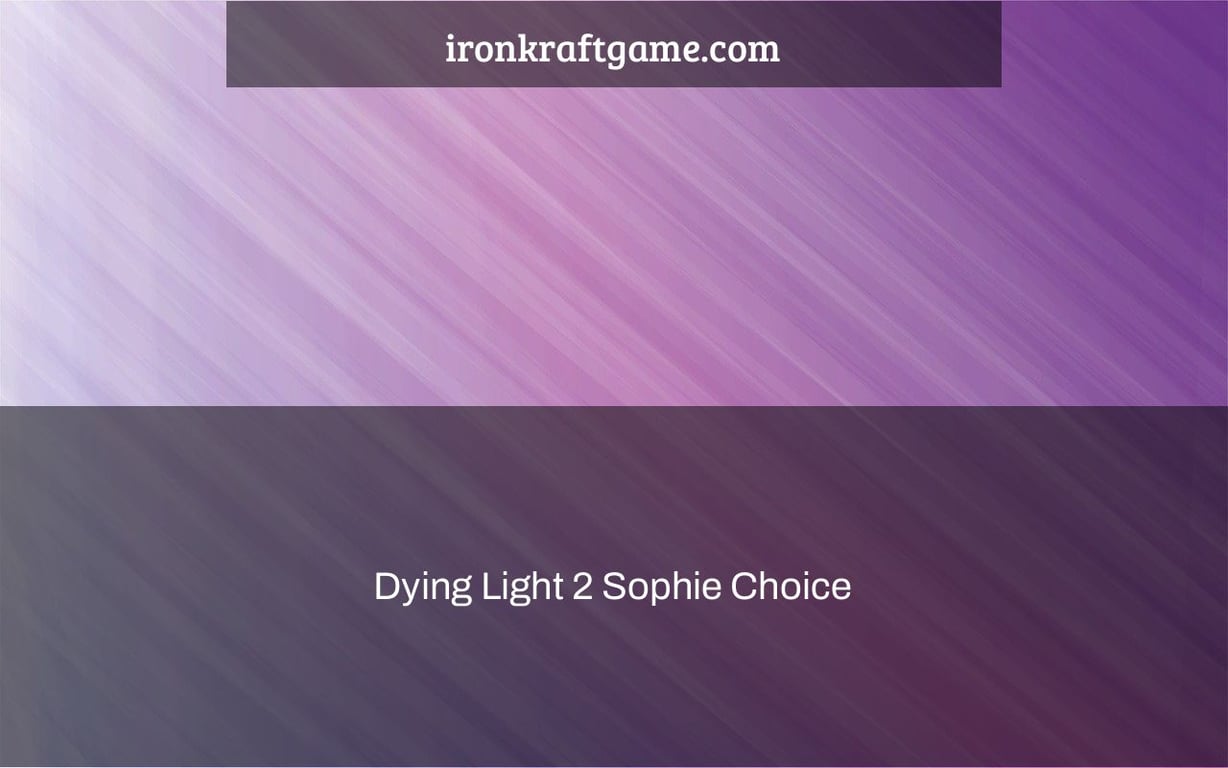 Dying Light 2 has a lot to offer in terms of branching storylines as a game with a deep tale. Throughout the game, you'll make several important decisions that will impact both the plot and your overall experience. Sophie, a high-ranking member among the Survivors, is introduced early on. The Water Tower task will force you to make a tough but crucial decision about whether or not to assist Sophie and the survivors. Should you continue to assist her?
When confronted with Sophie in Dying Light 2, what should you do?
On the surface, it's simple to understand why this is a difficult decision to make. Aiden's relationship with the Bazaar people is off to a poor start, as they attempt to hang him for what was, in the end, a justifiable reason from their viewpoint. Sophie's brother, Barney, makes everything much worse. He is a nasty and cunning man who has no respect for other people's lives. However, it is beneficial to evaluate the whole picture rather than just these two characteristics.
The opposing group is the Peacekeepers. They're a military force that has been attempting to take control of Old Villedor for some time. When their Commander, Lucas, is assassinated and disfigured, tensions rise. The Bazaar residents are refusing to speak, and the Peacekeepers are on the hunt for the perpetrator, suspecting one of them.
The Water Tower task is the game's first important objective that will swing the balance. After you reclaim it from Jack and Joe, the two bandits who threaten to blow it up, you may choose who controls it. You'll end up examining Barney's hideaway at the hotel, where you'll discover a piece of human flesh with a tattoo, no matter who you give the Water Tower to. It's a sliver of skin sliced off the Peacekeepers' Commander Lucas after he was killed. In the aftermath of his murder, the Peacekeepers are hungry for vengeance, and the destiny of the Bazaar lies in the balance of locating Lucas' killer.
Is it better to visit Aitor or to meet Sophie?
Aiden is in the Central Loop, and both sides have the resources to bring him there. Ultimately, it comes down to whatever group you choose to support throughout the game. After discovering the tattoo, you'll face Barney in the hideaway if you pick the Peacekeepers. Sophie will then come to a halt and accuse them of being framed. Sophie will contact you again later and will begin a series of missions to assault the Peacekeeper's windmill.
If you handover the Water Tower to the Peacekeepers, Aitor will assign you the duty of tracking out Barney's hiding. After this time's battle with Barney, Aitor and his men will arrive to arrest and question him. This kicks off your quest to get to the Central Loop. However, the Survivors blow out the PKs power windmill, trapping you in the tunnel and forcing you to put your uneasy faith in Hakon to the test. Anderson, the Peacekeeper's Second in Command, will assist you in escaping the tunnel, where she will die as a consequence.
This decision essentially comes down to which group you wish to support. Electrical Substations and Water Towers may be found here, and depending on whose side you give them to, they will change the gaming environment. The Peacekeepers will construct traps and other offensive and defensive structures to each Faction Building you give them to help you combat the infected in the streets as you move. They will set up structures to facilitate your traversal for each building handed to the Survivors, which might come in useful when attempting to climb big buildings and make faster escapes from Chases.
Do you need further Dying Light 2 assistance? We've got a lot for you:
"I'm Sophie or Aitor, and I'm here to tell you that the choice is yours." Reference: dying light 2 sophie or aitor reddit.
Frequently Asked Questions
Should I side with peacekeepers or survivors?
A: The choice is up to you. There are some peacekeeper weapons in the game, and there will be times where survivors may need help from your side in order for them to succeed as well.
What type of game is dying light 2?
A: Dying Light 2 is an action-adventure game set in a post apocalyptic California.
Is Dying Light 2 ever coming out?
A: Dying Light 2 has not yet been announced, but the developers have hinted that it could be coming in the future.
Related Tags
dying light 2 aitor or sophie
dying light 2 sophie try me
dying light 2 aitor choice
dying light 2 help sophie or go to aitor
dying light 2 go to aitor or sophie reddit