Microsoft is acquiring Activision-Blizzard, the company that brought us World of Warcraft, Hearthstone and Overwatch. This will not be Microsoft's first foray into gaming; it has previously acquired Rare for $3.4 billion in 2002 and Mojang for $2.5 billion in 2014 to name a few examples.
Microsoft is acquiring Activision-Blizzard, Bobby Kotick is still CEO. This will make Microsoft the biggest game publisher in the world. Read more in detail here: blizzard activision.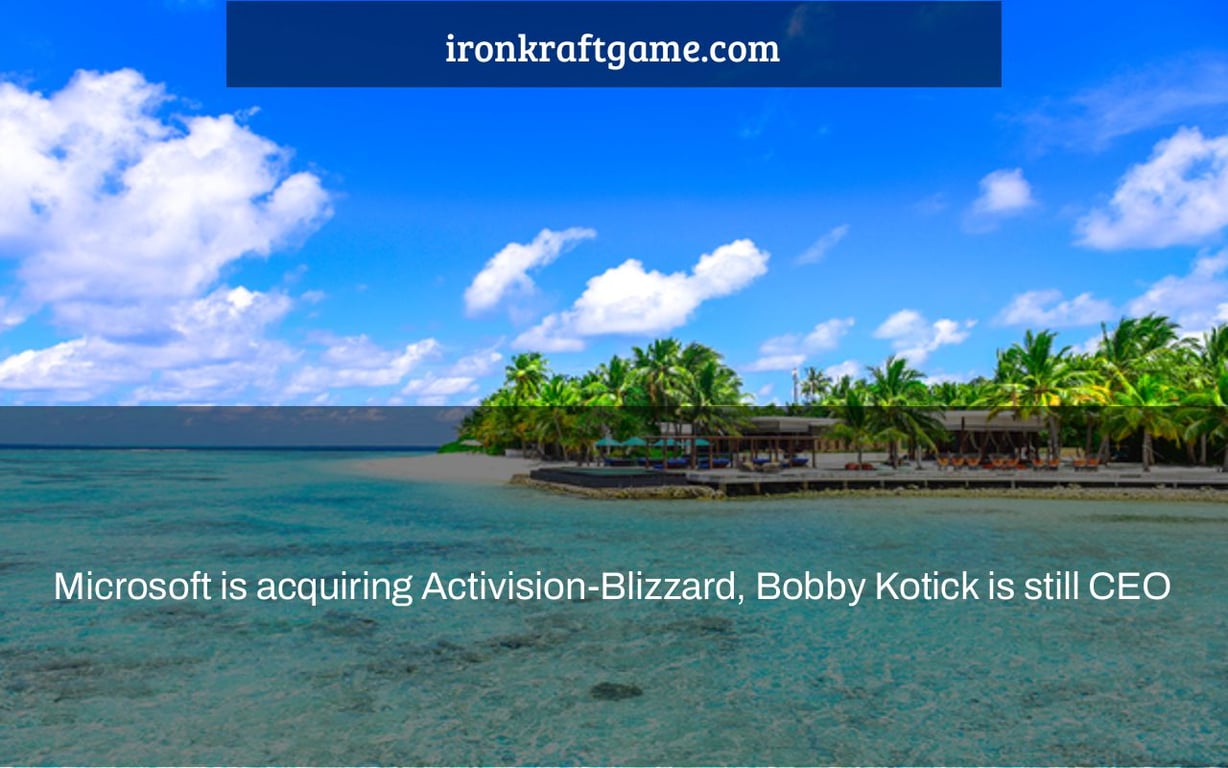 Welp, the Activision-Blizzard hot potato seems to have found a new owner: Microsoft has recently revealed that it would buy the struggling game company.
"Gaming is currently the biggest and fastest-growing type of entertainment, with three billion people actively playing games today, propelled by a new generation versed in the delights of interactive entertainment." Microsoft Corp. said today that it would buy Activision Blizzard Inc., a leading game developer and producer of interactive entertainment material. This purchase will help Microsoft's game company develop across mobile, PC, console, and cloud platforms, as well as supply metaverse building pieces. Microsoft will overtake Tencent and Sony as the world's third-largest gaming firm by revenue if the deal is completed. Warcraft, Diablo, Overwatch, Call of Duty, and Candy Crush are among the legendary properties from the Activision, Blizzard, and King studios that will be acquired, as well as worldwide eSports operations via Major League Gaming. The firm employs almost 10,000 people in studios all around the world."
The sale is a "all-cash deal valued at $68.7 billion," according to Activision-Blizzard.
Following the sexual discrimination and harassment controversy that erupted in the middle of last year, Activision-Blizzard has been dealing with litigation and labor issues. Bobby Kotick, on the other hand, does not seem to be on his way out. He'll keep his position as CEO.
"Bobby Kotick will remain CEO of Activision Blizzard, and he and his team will continue to concentrate on further strengthening the company's culture and accelerating business development." The Activision Blizzard division will report to Phil Spencer, CEO of Microsoft Gaming, after the transaction is completed."
Microsoft has been on a bit of a purchasing spree recently, acquiring ZeniMax and Bethesda for $7.5 billion in 2020.
Due to a lengthy run of controversies in the MMO and gaming field over the past several years, including the Blitzchung boycott, huge layoffs, labor issues, and executive pay controversy, Activision-Blizzard is regarded a problematic corporation in the MMO and gaming industry. The company was sued by the state of California last summer for fostering a work environment that was riddled with sexual harassment and discrimination, and the company's disastrous response has only added to Blizzard's ongoing pipeline issues and the widespread perception that its online games are on the decline. Employees are on strike and demanding Bobby Kotick's resignation, prompting many state and federal organizations to investigate the corporation.
Advertisement
Frequently Asked Questions
Will Bobby Kotick stay as CEO?
A: Yes, for now.
Does Bobby Kotick own Activision?
A: Yes, he does.
Is Bobby leaving Activision?
A: Bobby Kotick is currently the CEO of Activision, but recent rumors have been circling that he may be soon stepping down from his position at the company.
Related Tags
how much is activision worth
activision blizzard stock
atvi stock price