OlliOlli has a wonderful art style and many challenging levels that will keep you entertained for hours on end. It is one of the only games I consistently recommend to friends who don't own consoles, but still want an intense game they can enjoy without having to buy extra hardware.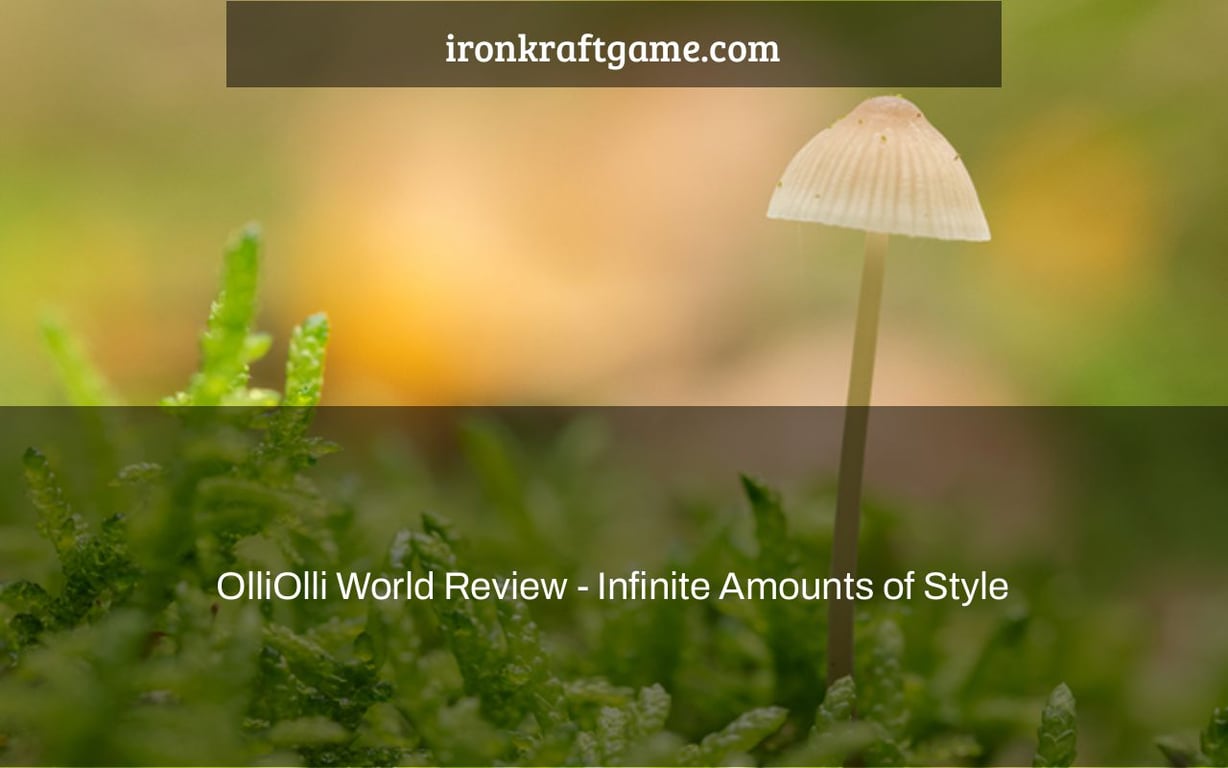 Before I traveled to The Restaurant School in Philadelphia in 2014, I purchased a PlayStation Vita off of Craigslist with the express intention of playing OlliOlli, a new skateboarding game produced by a tiny independent developer. It was a simple game with simple controls to learn (but difficult to master), but the notion was brilliant. It was a two-dimensional side scroller that I really needed in my gaming life to replace the vacuum left by Tony Hawk and Skate's departure. The game's pace rivaled that of Sonic the Hedgehog, and the game's unusual aesthetics made an indelible effect on me. Or, at the very least, it motivated me to get a system.
Review of the OlliOlli World
Roll7 has returned with OlliOlli World, some eight years later. In summary, Roll7's colorful skating video game is outstanding, and in my review of OlliOlli World for the PlayStation 5, I'll explain why.
What I Enjoy
With the Help of Your Friends, You Can Become A Skate Wizard
The narrative mode in OlliOlli World seems appropriate for the franchise. The plot starts with you establishing your character and selecting your deck, trucks, and wheels (more about that later), as you'd expect from a skateboarding game. You'll be plunged into Radlandia – a Skatetopia with five separate settings, each with fascinating tasks, personalities, checklists, and so much more — just after you've decided on your character's look.
Sunshine Valley, Sketchside, Burnt Rock, Los Vulgas, and Cloverbrook are the five regions.
Each level will assist you in your quest. For example, you may study the fundamentals of OlliOlli World in the aforementioned Sunshine Valley. This involves learning how to acquire momentum, linking techniques, grinding, and whatever else you can think of. As you progress through the levels, you'll get access to new abilities and learn more about Radlandia's fascinating tale.
In Cloverbrook, I learned how to wall ride, and in Sketchside, I pushed my limits. It will continue on and on since there is so much to see and do, as well as so many people to meet along the way. There's much more once you finish the narrative mode and find yourself in Gnarvana, a whole "league" where you compete against some of the finest skaters in the world.
But none of it would matter if the gameplay and aesthetics weren't superb.
Gnarly Gameplay And Vibrant Visuals
The amazing aesthetics of OlliOlli World were the first thing I noticed when I booted it up. Yes, it's 2022, and the images are just two-dimensional, but they're so much more. There are brilliant colors, and the aesthetic is reminiscent of Adventure Time on Cartoon Network. The graphical style is fantastic, and I honestly don't believe the game would be the same if it didn't have it.
That isn't to suggest the gameplay isn't just as good. As you travel up and down and side to side through each level, it nearly seems like you're on an amusement park ride. OlliOlli World offers additional opportunities for fans of the franchise. Some levels will utilise quarter pipes to modify map directions in ways that we haven't seen before (right to left instead of left to right). Others let you change courses by pressing square, revealing a new location with a new task. On some levels, this may include chasing a bear down a river, stomping on seagulls, high-fiving a pal, or avoiding exploding inflatable kittens. Roll7's creativity doesn't always have a rhyme or reason, yet it always seems to work.
Each level is unique, with a lot going on in the background. Parts of the level may also come to life in rare cases. Rails may wobble and totter, and in certain cases, a couple of bees may carry a wall you're riding to a neighbouring rail. So, when it comes to Roll7, anticipate the unexpected.
I played on PlayStation 5, so I can only vouch for the DualSense controller, but the board under your character's feet can be heard. When grinding rails or executing a flawlessly executed kickflip down a flight of stairs, this little touch provides a distinct dimension. The issue, in my view, is that your guy can't feel the skateboard under his feet. I think what I mean is that after playing a game like Astro's Playroom, you appreciate the controller's potential, and anything that doesn't measure up, well, doesn't measure up.
Customization
I had to smash my trucks against the coping of the closest quarter pipe in wonder of what Roll7 was able to do with their customisation choices, especially considering they are a smaller developer. It's a large library with a lot of choices. This grizzly-looking dude with a ragged beard and Troy Polamalu-style hair says there are alternatives to make just about anybody (and maybe anything). You may also add accessories like hats (trucker/beanie/drinking), hoodies, melting ice cream cones, and whatever else you can think of.
As you continue through the game, you may unlock new shirts, shoes, sweatshirts, sweaters, tank tops, flip flops, and other accessories like boards, trucks, and wheels. I can't stress enough how many alternatives there are, and I'm sure I've only explored a fraction of them. My kids and I may get lost in the process of deciding on the appropriate attire for my character for hours.
Perhaps they will add more accessories and goods in the future, but for now, making and modifying your skater is simple and will become something you like about OlliOlli World. I'm sure I have.
What I Don't Care For
The game moves at a breakneck pace – like Bones Ceramics!
Maybe I'm growing old for my age, but there are moments when I just can't keep up — and I don't believe that's necessarily a negative thing. In all honesty, I believe it makes the game more difficult, which I like. That said, waiting until the last minute to decide whether I should attempt to swap pathways or prepare for a nasty gap with a rail waiting at the end sounds cruel.
It's also conceivable that there's a problem with my television, but I did turn it to "game mode" as told at the start of the game. Nonetheless, there are occasions when things seem to be a fraction of a second late. In all honesty, there have been occasions when I've coasted off a ledge and entirely missed a rail or failed to make any pop, but I'm still not sure whether that's part of the OlliOlliWorld legend or a curse.
For me, the game's pace isn't a deal breaker. However, when combined with the vast trick list, the game might get a little more difficult than you'd want at times. This may also become more noticeable if you've been attempting to stick a run over and over again.
Even with the Tricktionary, I'm still having trouble mastering tricks.
OlliOlli World has a long number of tricks, and each one's graphics are as amazing as the last. With that considered, learning some of the game's more complex skills took much too long for me. It's quite simple to do nasty grinds and many variants. 360 flips, dark slides, Casper flips, and other stunts of this kind tend to irritate me. It doesn't help that you're speeding down a hill or grinding a rail that's been waxed with some of the best wicks in the world.
Again, it's most likely a combination of the game's pace, my being old and washed, and the responsiveness, all of which have combined to create a ball of aggravation. It's not a deal-breaker, but I'll be honest, I seldom go through a level without having to restart because I missed a grind or failed to hit a technique that I had previously been able to perform "perfectly." Part of it, of course, is due to the way I play skateboard video games. I try the ideal line over and over again, just as I would if I were attempting to nail a trick or line in real life.
Roll7 has thankfully included checkpoints throughout the levels, so you won't have to restart from the beginning after each run. Even yet, I find myself revisiting stages since things doesn't seem to be going my way.
Conclusion
I've played a few skateboarding games in the past year, the most of them concentrated on the more realistic aspect of the sport (the most realistic of course being SkateBird). OlliOlli World isn't going to be as outrageous as you may think from a side-scrolling arcade skateboarding game with this visual style. It does, however, stand apart from some of the other games on the market, and I mean that in a positive manner.
The narrative mode is engaging enough to keep you interested, and I've also found myself attempting to beat my previous high score and unlock all of the levels I've completed. And, if you haven't heard, the customisation is something I actually like and wish to see in future games. When I say it offered more possibilities than many big-budget EA games, I mean it.
The narrative mode and vast customization choices aren't what make OlliOlli World so fantastic, but they certainly help. Even if you have to ollie over enormous ice cream cones or high-five your pals, it's how beautifully it marries the art of skating with the ultimate roller coaster experience.
OlliOlli World is more than worth the $30.
Related