War Thunder is one of the most popular free-to-play MMOs, and its chat has been disabled for a full month now since Russia's invasion of Ukraine. This comes at a time when War Thunder players are waiting on what the future holds besides an ever more upsetting political climate in Europe.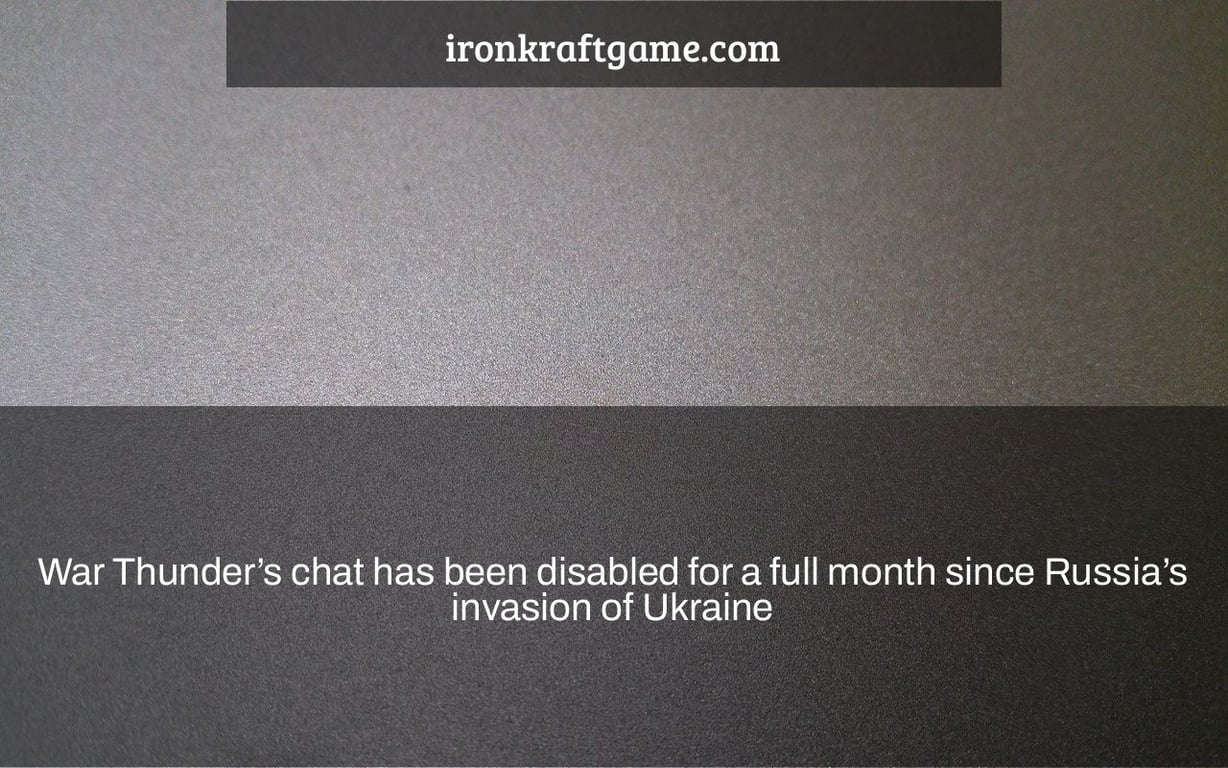 One of the tried-and-true MMORPG principles is that you're nearly always better off disabling global chat right away, particularly if you're playing with a lot of younger people or in a competitive situation where smacktalk and trolling are common. So you can see why, in the midst of Russia's continuing invasion of Ukraine, which has displaced millions of Ukrainians and killed dozens, War Thunder operator Gaijin Entertainment disabled in-game text and voice communication.
Vice's Motherboard blog reminds us that it was a month ago, and it's still down.
At the time, Gaijin, a studio located in Hungary, said that chat had been blocked in order to "[keep] out of politics" and "to ensure that [chat] is not utilized for political conversations that may disturb other players."
Politics is still very much present in a game that is actually based on real-world locales, people, and technology, even without conversation. Players are wearing the gold-and-blue color scheme of Ukraine to show sympathy for victims, while others have personalized their tanks with the Russian "Z" to show support for the invasion, according to Motherboard. Alternatively, you could troll everyone else. How can you determine if you're unable to converse?
Meanwhile, outside of the preset quick instructions, players can't speak at all, which, according to some players, makes it substantially more difficult to play and form teams. However, one player told Vice that seeing the white Z on a tank causes him to have a "emotional reaction" and that he's "wanted to shit talk Russian sympathizers," implying that it's more difficult to keep his cool and remember it's just a game when "[p]eople are dying and a large player base in these games is Eastern European."
Readers will recall that Gaijin's War Thunder is far from the only MMO with a similar player base and theme; in the aftermath of the invasion, Wargaming, the company behind World of Tanks, World of Warships, and World of Warplanes, halted marketing, evacuated employees from Kiev, donated money to the Ukrainian Red Cross, and fired a pro-Russian developer.
• Since Russia's invasion of Ukraine, War Thunder's chat has been blocked for a month. Albion Online's gamepad functionality has been tweaked, and Russia-themed guild emblems have been removed. • Fortnite's profit donation initiatives have already collected $50 million for Ukrainian charity • Fortnite and its community have now raised $100 million for Ukrainian relief New World seems to be preventing gamers from operating in Russia and Belarus. Doctor Strange has been added to Fortnite's new season, as Epic Games raises millions for Ukraine help. Payments from Russia have been restricted, according to the Lord of the Rings Online company. Niantic suspends Pokemon Go and Ingress in Russia and donations to Ukraine's relief efforts. • Corepunk, a Kyiv-based firm, claims it has lost communication with several of its employees who are still in Ukraine. EVE Online's PLEX for Good charity drive kicks out to aid Ukraine's humanitarian catastrophe. • Bungie has halted sales of Destiny 2 in Russia, while Gamigo has launched a charity drive in Ukraine across numerous MMOs. CCP Games, the creators of EVE Online, will undertake a PLEX for Good donation drive for Ukraine. Itch.io's Ukraine Bundle, Cyberpunk 2077 review bombing, and Twitch withholding payments to Russian streams • EA and Microsoft end Russian sales, Hi-Rez reroutes Russian profits to Ukrainian aid • Activision-Blizzard cuts Russian sales, pledges support for Ukraine • Ukraine implores game companies to block Russian esports participation • Zenith's Ramen VR joins chorus of MMO studios donating to support Ukraine • Conan Chop Chop debuts today, with Funcom donating $100K to the Ukraine Red Cross • Wargaming gives help to the Ukrainian Red Cross, dismisses pro-invasion developer • Elder Scrolls Online gamers organize in-game peace walks across Cyrodiil in support of Ukraine In light of the invasion of Ukraine, Battlefield 2042 has removed the Russian helicopter award. The game business responds to the Ukraine situation, according to the MMO Business Roundup.
Advertisement